Take Your Stuff and Shove It…
…In an Organized Location
Whether you're on the job, vacation, or just daily-driver organization, we have the cargo management needs you're looking for. When you run out of space inside, roof racks make it easy to stack it on top. Your truck bed doesn't have to be a dumpster anymore; instead, toss in a BedSlide or SwingCase and make tool management easier than ever.
Safety First
Protect your neck in case of an accident
Storage Modules
Interior storage boxes that save a lot of space and keep organization
Van Accessories
Floor mats, screens, boxes, holders, clamps, generators…yes!
Click the picture to see what can be done to make your fleet vans more efficient.
Efficient Organization
Shelves, shelf accessories and adjustable units –> Fit to your needs!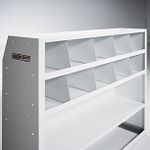 Why Crawl When You Can Slide?
Get your materials out faster and easier with heavy-duty pull-out drawer units. Access tools and supplies while keeping your flooring space!
Get Goin' Quicker
We have the bike rack you've been looking for. Hitch, rear, spare tire, roof, you name it.
Thule Cargo Carrier Rental
You have the option to
rent

this cargo carrier for an entire week for $100. Don't leave something behind just because it won't fit AND don't buy a cargo carrier to only use it once a year.

Rent

this cargo box and bring it back when you're done.


S

imple as that! 
Give Us a Call: 937-492-2110