Fall 2016 Automotive Accessories Buying Guide | Top 18
There's nothing quite like a warm butt! If your vehicle didn't come standard with heated seats – these are your top options from CoverCraft. They are easy to install and will definitely make your commute more comfortable when the snow is flying
Scraping your windshield after a hail storm or intense snow is just about the last thing you want to do on a cold fall or winter day. A frost shield cover solves your issue of scraping!
Your vehicle is one of the largest investments you'll make in a lifetime – protect it from the elements with a fitted vehicle cover. Absolutely, you can cover it with a generic one from another online retailer and let it flap in the wind, or you can get a stylish perfect-fit vehicle cover from CoverCraft that is going to last and repel what Mother Nature tosses at it.
There are multiple benefits to having a truck bed cover, mainly being protection from the theft and saving a little gas. However, the biggest perk of owning a truck bed cover comes when Mother Nature strikes. If you want to comfortably place valuable items in your truck bed without having to worry if the rain will soak them, the snow will cover them, or the sun will damage them, this is your go-to option. The next great thing, there are options out of the roof for the type of cover you're looking for, vehicle fit, and budget constraints.
Fall Time = Football Time = Cornhole Time!
Don't you think it's about time to silence that theatrical uncle of yours who thinks he is the best cornhole player in the world and show off your custom cornhole boards from Visual Concepts? They've been around for a while but they're still a great party hit and always bring friends closer together (not for the ultra-competitive). Our highly-durable graphics will stick to your boards for years and represent your team or business in the least-corny way as possible! Get em' here!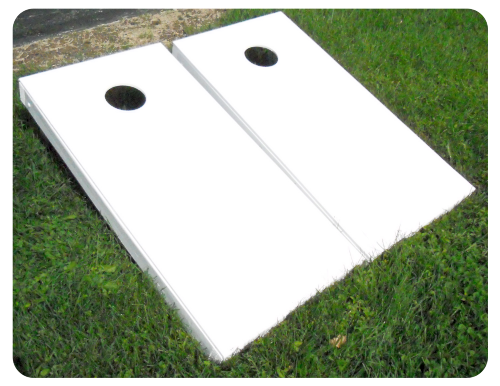 Differentiating temperatures have a negative effect on your vehicles battery longevity and performance. The first question to ask is, "What is my vehicle type?" and then go from there!
CTEK Chargers are optimized to perform on specific types of batteries to give you the ultimate battery performance. They're a great tool to have and also a perfect gift option for the automotive enthusiast. See them All>
Classic but classy in all cases. Spills do happen, animals tear them up, and you're bound to drop something that will stain your brand new seats! Seat Covers protect from the unexpected and also preserve the resale value of your vehicle. Just like several other accessories, you have a lot of options when it comes to seat covers (brand, color, and material). Holiday season and deer season are somewhat synonymous when it comes to hunters, making the camo seat covers a perfection option for the hunter of the family.
Let air in and keep everything else out. That is all. Useful for when you need them and stylish for all the other times. Companies like WeatherTech and Husky Liners are obsessed with making sure that your window visors are a PERFECT fit on your vehicle. *we have all options.
Usually one of the first accessories for a driver who hates mud and dirt splashed up the side of their rig. Prevent rocks and other road debris from damaging the side of your vehicle with mud flaps. Again, WeatherTech, Husky Liners, and Bestop have every option under the sun when it comes to truck accessories like mud flaps.
Snow tires are optional, but very useful when snowy weather hits hard.
Whether you're clearing roads for a living or just cleaning the driveway out, we have the snowplows and snow accessories to make your life easier. Call to get an estimate (937-492-2110)
Nobody ever plans on it but it does happen! You're driving along just fine and then you're in the ditch because of black ice or some other reason. A product like BubbaRope is a whole new way to safety recover your vehicle from a ditch without ripping your bumper off your vehicle. Your'e going to have to see this one for yourself!  – Click here to watch video
Protect your costly headlights from scratches and cracks from road debris kicked back by other vehicles. WeatherTech has done the work to fit your specific headlights, now cover them up for with proper headlight protection that only takes a few minutes to install and will give you piece of mind while driving.
Fall and Winter time mean shorter days and longer nights. The darkness limits visibility and makes it easier to hit fallen branches, deer, or other road obstacles. Today's modern LED lighting is ridiculously bright (and most of the time not road legal and only for off-road purposes) but that doesn't mean that people aren't mounting these LED Light Bars to their trucks, jeeps, vans, and yes cars too! If you want to literally light up the night, an LED light bar is the way to go. There are expensive light bar options with great warranties and there are also cheaper alternatives. PSG has access to all brands and also offers installation.
YETI is where everybody's head is at, but Grizzly Coolers and K2 Coolers are where their heart truly is. We have the best Gripped Tumblers that fit directly in your hand that perform just as well (if not better) than YETI products. High-Performance coolers are pricey, but worth it when your'e going off the grid for a week, need to keep drinks cold/hot for a long time, or are keeping game fresh from a hunting trip. Grizzly Tumblers and K2 tumblers also make a great gift item for the upcoming holiday season. We know we would be excited if we got a Lime Green Grizzly Tumbler in our stocking this year instead of another pair of socks! The tumblers are great for coffee and hot cocoa..which is sure to be a hit at your house this year!
For the well-prepared during the colder months, it takes a lot of space to have everything you need in case of an emergency. Interior Cargo carriers are great because they don't take up much more room and help you stay organized by adding compartments that attach to the back of seats or on the floor. DuHa for example, takes the empty space in your vehicle and makes it USEFUL space.
Built with one goal in mind: Preservation!
Achieve total interior flooring coverage with digitally-fit floor liners or heavy duty mats that protect your floor from all who enter. Vehicles welcome dirt, dust, mud, grime, slush, grass, muck, and awful spills that will permanently stain your carpet. Catch almost all of that mess with the proper floor liners from companies like WeatherTech, Husky Liners, or Bestop! They're built durable and most models are engineered to keep from sliding around under your feet. Clean-up is a breeze too – just remove and spray off with a hose and allow for drying time. That's. It. Did I mention they're custom fit to EVERY SINGLE MAKE, MODEL, AND YEAR OF VEHICLE! 
Take every word from the floor liners description and apply it to this line + idea of trunk and cargo space coverage! It's important because this area is a catch-all and usually holds the items that aren't small or clean enough to be allowed in the back seat. Cargo Liners offer complete coverage of your trunk area to maintain its value and keep it looking brand new from the time to put the liner down to the day you take it out. Also created to fit every make, model, and year for you.
and don't forget…